As a young Berlin rabbi in the 1930s, he preached against Nazism.
As an American rabbi in the 1960s, he spoke out against racial injustice.
As a Jew, he saw these struggles as morally the same.

Joachim Prinz assumed an independent Berlin pulpit in 1926. He was 24. A gifted orator, his radical approach differed sharply from the staid, tradition-bound style of his much older colleagues. He regularly preached before standing room only congregations in the city's largest synagogues. Young people were especially drawn to his charismatic personality and message. They flocked in large numbers to his study groups and public talks.
Even before Hitler came to power, Prinz understood that there was no future for Jews in Germany. His best selling We Jews, urged them to leave the country where many, his own family included, had lived for generations. Expelled by the Nazi regime in 1937, he and his family emigrated to the United States.
For the next forty years he brought the same kind of independent thinking and energy to Newark New Jersey's Temple B'nai Abraham and to both American and international Jewish organizations. He served as president of the civil rights oriented American Jewish Congress from 1958 to 1966.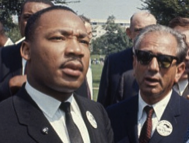 In August of 1963 he and Martin Luther King, Jr. were among the ten leaders of the March on Washington. Preceding King to the platform, he delivered a stirring speech against deplorable silence in the face of injustice. It was an expression of his life-long commitment to the cause of equality and liberty, but speaking "as an American Jew", it also celebrated a very personal connection with his adopted and beloved homeland.
Filmmakers Rachel Fisher & Rachel Pasternak have created a compelling documentary about Joachim Prinz' life and work. It has been shown at a select number of venues and film festivals in, among others, Berlin, Washington DC, Newark, Toronto, Los Angeles and Jerusalem.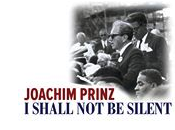 For further information, including how to make a tax-deductable contribution to help fund the film visit: www.prinzcocumentary.org


The distinguished historian Michel A. Meyer edited and wrote a masterful introduction for the publication of Joachim Prinz's posthumously published autobiography.
Joachim Prinz, Rebellious Rabbi

If you have any material or information that might add to the Joachim Prinz Papers at the American Jewish Archives or to this website, please contact us. 
We're always interested in your views or your
remembrances, and would be happy to answer
your questions.